As part of security updates in April 2023, Pathway users will have to reregister and change passwords. This is being done to verify the user's identity through multifactor authentication. You will need your TRS ID (shown on statements and correspondence).
New Pathway registration instructions in detail
About Pathway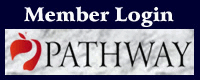 Pathway provides TRS members with secure, online account access. Pathway supports internet-based transactions between members, employers and TRS. An app for mobile devices also is available.
Pathway is designed to be easy to use, accurate and secure. Pathway provides more opportunities to serve TRS members and employers in the most convenient manner.
Members must register for Pathway using a desktop format before using the app.
Apple App Store links:


Pathway Registration (2023)

Video being updated

(If you don't see the video player, the link is: video being updated)