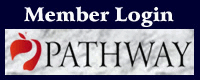 Pathway is TRS's online account access system for members and employers. Pathway supports internet-based transactions between members, employers and TRS and allows members to directly access their retirement accounts. An app for mobile devices also now is available.
Pathway is designed to be easy to use, accurate and secure. Pathway provides more opportunities to serve TRS members and employers in the most convenient manner.
Members must set up their account in the desktop format before using the app.
Pathway Registration (2021)
(If you don't see the video player, the link is: https://youtu.be/IASoy2srZ9U)